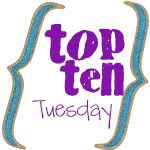 Music is such a powerful tool of worship for me. My commute to work is an hour round trip, so I spend that time in worship...inside my CRV! I've had some powerful times in that 4 wheeled sanctuary and lately it's been my life line!
So I wanted to share with you the top 10 worship songs that are playing on my ipod right now:
1.
How He Loves
by Kim Walker
2.
The Stand
by Hillsong United
3.
Everything Falls
by Fee
4.
Jesus Paid it All
by Kristian Stanfill
5.
You Never Let Go
by Matt Redman
6. Your Great Name by The People's Church
7.
Revelation Song
by Kari Jobe
8. Our God by Chris Tomlin
9. You Alone Can Rescue by Matt Redman
10. Beautiful Mystery by Telecast
For more Top Ten Tuesdays, visit
Oh Amanda
!