If there's one thing I love more than anything, it's being an aunt! And this week, I became an aunt for the 4th time! Bowen (Bo) Thomas Brown was born March 29 at 5:22 pm. He was 5.9 lbs and 18 1/4 inches long with a head full of strawberry blond hair! He's gone through a lot in the 2 days he's been here so far. When he was born, his blood sugar was low, so they had to feed him. He wasn't taking the bottle, so they had use a feeding tube. That was NOT fun to watch :( His blood sugar finally came up to normal levels. Because he was a couple weeks early, his lungs hadn't fully developed and they were "wet" (had fluid in them), so they had to give him oxygen. Nobody other than his parents got to hold him and that was just for a few seconds. He never quite caught on to the whole breathing idea, so they sent him to what they call a transition nursery. There, they were able to keep a closer eye on him. They told us that he could stay there for up to 6 hours and if he was able to breathe and eat on his own, then he could go back to his parent's room. Well, unfortunately, they had to admit him into the NICU. Thankfully, Matt has a good friend, Heather Adams, that is a nurse in the NICU and she requested to be Bo's nurse. When babies have respiratory problems, they are x-rayed every so often. When they took one of Bo's x-rays early Saturday morning, they found 2 holes in his lungs. They put tubes in those holes to help alleviate some of the fluid. Because of this, he has to be given special medicine that, once again, can only be given through a tube down his throat. What they're waiting for now, is for Bo to be able to eat a day's worth of bottles (8) on his own. This will show that he can eat and breathe and tolerate it. The doctors are saying this could be up to about 2 weeks!

His vital signs are good and he's maintaining his body weight. We all are very anxious for little Bo to come home! I would appreciate your prayers for Bo and our family. Here's some pictures of the day he was born.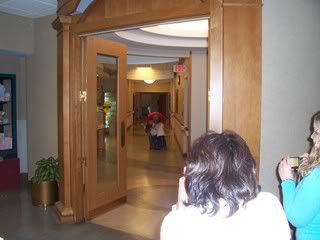 Brooke & Blake running to meet their dad.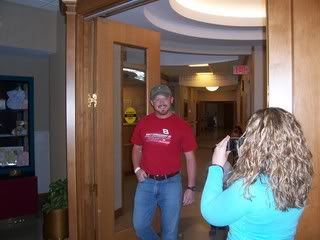 "He's here!"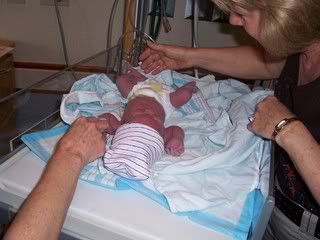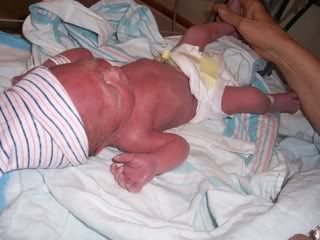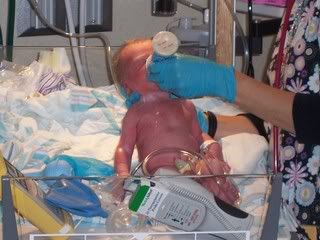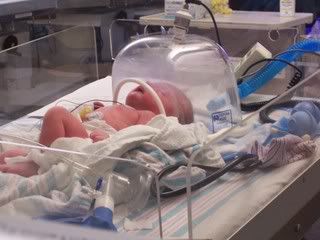 In the transition nursery